Resurfacing Peels & Add Ons
When receiving any Resurfacing peels, Chemical Exfoliation or Microdermabrasion we recommend a post procedure kit
Resurfacing Peel or Chemical Exfoliation Consultation (30 min)
Consultation is a vital part of achieving success with a PCA Resurfacing Peel or any Chemical Exfoliation.

Includes the post procedure kit. Which should be 3-6 week supply of customized skin care products to prepare your skin for the Resurfacing Peel.

Analyze skin type and create patient profile.

Resurfacing Peel patch test.

HIGHLY RECOMMENDED but not required.
---
Resurfacing Peel (30-45 min)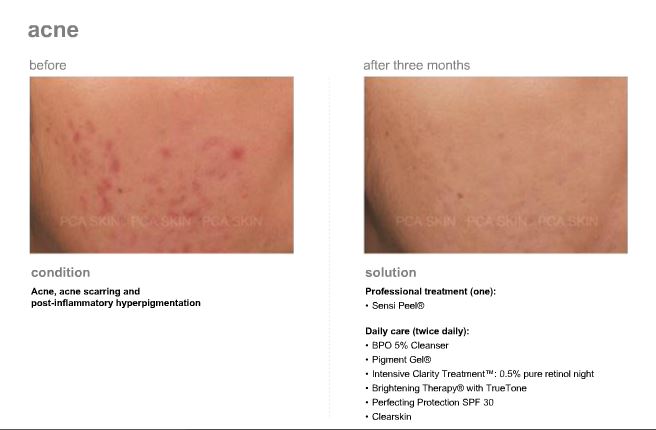 Glycolic Chemical Exfoliation: For normal and combination skin. This cell renewal peel is a great classic.
Lactic Chemical Exfoliation: For normal to dry skin with irregular pigmentation. Arbutin and kojic acid work with the hydrating properties of lactic for an extreme lightening peel.
TCA Depigmentation Peel with 15% Azelaic Acid: For all skin types (except sensitive or rosacea skin) with irregular pigmentation. Great for Fitzpatrick's 1-6, but carefully formulated for creating an even skin tone and texture for darker skin types. Perfect for hyperpigmentation and melasma.
---
Retinoid Treatment (add on)
These enhance absorption of the vitamins, antioxidants and rich actives into the skin for maximum benefits. Good for all skin types ** Optional add-on to other professional treatments.
---
All Natural Banana Exfoliation (Special ~ When available)
Our all natural Banana Exfoliation is designed exclusively to restore the skin to its healthy balance and beautiful radiance. Whether you have occasional breakouts, acne, sun damage, sensitive skin, hyperpigmentation or visible signs of aging, this facial is known for delivering immediate, visible results. This includes a 23% Multi-Acids AHA's that work synergistically to exfoliate on many levels of the skin to remove dead skin cells, soften impactions, stimulates cell renewal and brighten the complexion. Enjoy a relaxing scalp massage while you relax and give your skin a gentle resurfacing touch.
---
---
Therapeutic Massages (add on)
Ayurvedic Facial Massage~ is a customized treatment, incorporating essential oils, typically herbal-infused, with time-honored and non-traditional strokes and kneading that suit each individual's needs. Movement flow can be quick or drawn out, depending upon the person; some spas provide two therapists working on one guest simultaneously.
Lymphatic Drainage Facial Massage~ helps deliver cellular waste and microscopic villains like viruses and bacteria, which may cause cellulite, to the lymph nodes. These filter-like masses, which are found from head-to-toe, deliver this material to the liver, kidneys, and lungs. This drainage is essential because the lymphatic system lacks a pump of its own to transport the lymph through the body and must rely on movement, muscular contraction, and massage to flush the fluid. Benefits of lymphatic drainage range from a decrease in facial puffiness and a boost in immune function to a smoothing of cellulite and a soothing of muscle soreness.
---
---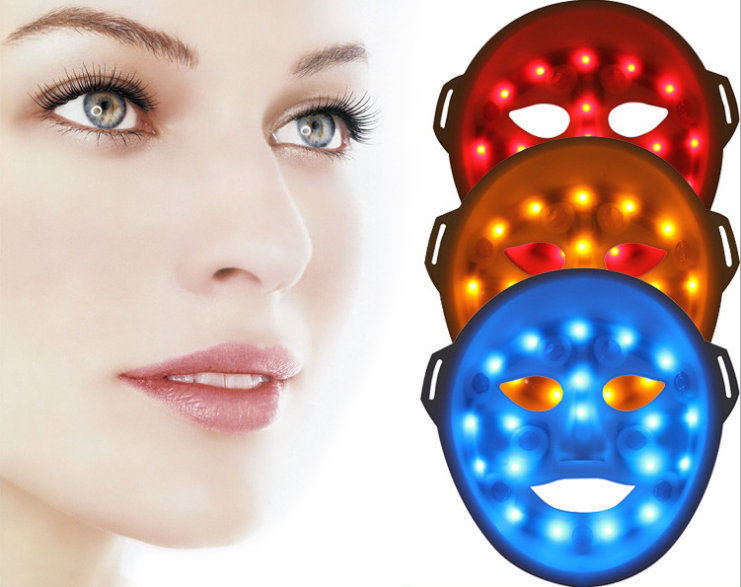 LED Light Therapy (add on)
Treats: Anti-Aging, Hyperpigmentation, Acne, Scars, Fine Lines & Wrinkles, Crows Feet, Laugh Lines, and Forehead Wrinkles.
WILL DIMINISH AGE SPOTS & DISCOLORATIONS
LED Lights Curative Effect:
~ Promotes blood circulation and stimulates formation of collagen and elastin to reduce lines and wrinkles, heals xeroderma (dry and roughness) and exuviations (abnormal shedding) of the skin.
~ Relaxes the skin, kills bacteria, treats Acne and Rosacea.
~ Anti-inflammatory, repairs damaged cells, inflammatory skin infections and conditions.
~ Reduces discolorations including freckles, normalizes sebaceous glands, reduces black heads and sores, and balances moisture.
~ Reduces scars.
~ Speeds up skin renewal!
~ Strengthens and calms the skin, releases stress, helps cure sunburn.
~ Helps the skin to absorb nutrients and have anti-aging effects
---
---
Soothing Collagen Eye Lift Treatment
Collagen eye lift mask which moisturizes, hydrates and soothes the tired eye area. Helps firm and tighten.
This eye treatment gently but effectively treats and minimizes fine lines, wrinkles, crow's-feet, dehydrated, puffiness, lack of skin tone, and dark circles.
---
Collagen Plumping Lip Treatment
This 3 step lip treatment will exfoliate your lips using a natural scrub, a mask to help hydrate and moisturize your lips, and lastly finish and leaving your lips with maximum hydration and a sexy sheen!
---
Décolletage Treatment
Are you going to wear a strapless dress or getting a spray tan? We highly recommend that you get a Décolletage Treatment for best results. We will cleanse, exfoliate, mask and moisturizer your Decolletage during your facial leaving your skin soft and luxurious.
---
Extractions may be added onto any facial
---